Is It SQL?
This started as a simple SQL Server monitoring solution for my clients. The first question I get when applications have issues is "Is It SQL Server?" I wanted a simple monitoring service I could run onsite that would answer that question. It had to be simple enough that a non-DBA could look at it and decide whether to call me.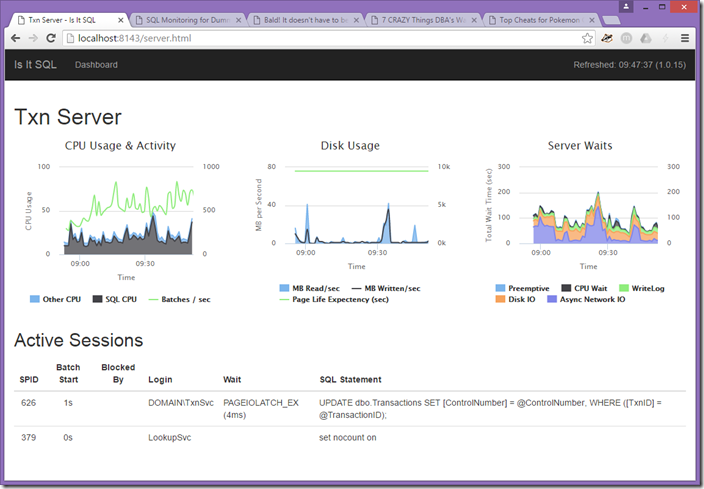 Newsletter
The newsletter includes new releases, tips and tricks, and access to beta fetures that aren't publically available including database mirroring and availability group monitoring.
Features
Supports SQL Server 2005 through SQL Server 2016
Monitor CPU usage for SQL Server and non-SQL Server tasks
Capture batch requests per second
Monitor Disk I/onsite
Monitor waits
Show actively running queries
Capture basic demographic information including version, start time, database sizes, etc.
Can run with no installation or it can be run as a service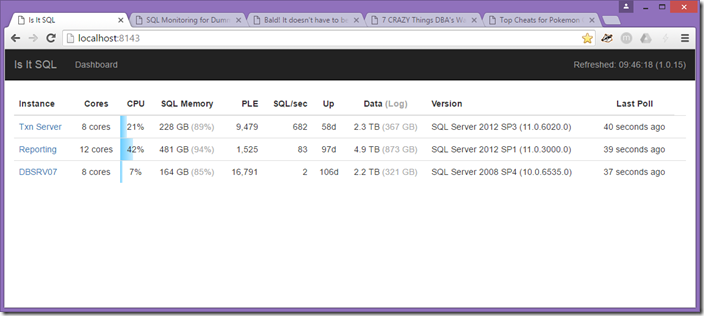 Requirements
The Is It SQL server needs to have any any one of the following drivers installed:
Generic SQL Server ODBC driver
All SQL Server installations from SQL Server 2008 on should have one of those installed. Please note that SQL Server DOES NOT need to be installed where this is running – just a driver.
Releases
There's finally some control over what servers appear in the dashboard. Add the "dashboard" tag to three servers and those will appear on the dashboard.

Better support for multiple Availability Groups hosted by one server.
Fixed an annoying little bug around the settings page when you have security configured so that you can only save from "localhost"
Improved support for tagging. (Sign up for the newsletter to enable tagging)
Servers now show the total RAM on the server and the amount allocated to SQL Server and the percentage in grey
Hovering over the cores shows the actual cores used. This very helpful when looking at tags and seeing how many effective cores those servers are using in aggregate.
Continued to clean up the wait types for SQL Server 2016
README.html updated with instructions for this release. Please read it!
No more servers.txt. This release allows you to add and edit servers.
Use the app for basic configuration settings such as port, concurrent pollers, and backup alerts thresholds.
Add a page to show database servers that don't have appropriate backups.
Increased the number of servers that can be polled concurrently
Cleaned up various wait group names
Added a page to show a summary of all your servers
The active sessions will show a percent complete if one is available. Hover over the duration to see it.
Include support for availability groups. Is it SQL displays the health of any availability groups it finds. Note: This is an Enteprise feature. Sign up for the mailing list above and I'll send details on enabling this feature.
Disk performance now breaks out the MB/sec, IOPS, averge IO size, and average duration over the one minute monitoring period. It does this for reads and writes. This column is also sortable based on the IOPS. This gives an easy way to see which servers are generating the most disk I/O.
The pages that show a list of servers now include a total line. It totals the disk I/O, SQL batches per second, SQL Server memory, and the size of data and log files. This lets you see the total load you're placing on your infrastructure across your all servers.
Database Mirroring is show in two places.


It appears on the server page will show any databases that are mirrored.

Second, there's a global database mirroring page that will show each mirrored database across all servers. It will show the status, partner, and send and receive queue sizes. It also includes a "priority column". This gives an easy way to prioritize databases that aren't online and synchronzied or have a send or receive queue.
This is a beta feature. Sign up for the newsletter and we'll send instructions on enabling it.

The log size of database is split out into its own column which makes it sortable.
Information that is polled in real-time is identified with a cool lightning bolt. Every page refresh will update this data.
Assorted behind the scenes fixes for perfomance, memory and concurrency.
BETA: User-defined tags can be assigned to each server. Please sign up for the newsletter to enable this feature.
Assorted small bug fixes
Hide tasks waiting on BROKER_RECEIVE_WAITFOR from the Active Tasks section
Added a page to view database details. It shows size, recovery model, compatibility mode, collation, etc.
The menu bar stays on top when scrolling
Better error reporting if the port is already in use
Prioritize the ODBC 13 driver if it's available
Unreachable servers are displayed at the top of every page. Previously some pages didn't display them.
Sessions with a wait type of WAITFOR no longer show up as Active Sessions when looking at a server
Previously the database size included snapshots. Snapshots are no longer included in when computing the data size.
The default sorting for some columns has been changed to show the higher values first. For example, CPU percentage and database size.
The list of servers is sortable by clicking on the header
Any unreachable server now shows at the top of each page since a page may be sorted in a way that wouldn't show it.
If a server is unreachable, it will only log once. It will then log when it becomes reachable.
Polling should be faster due to more concurrent threads.
All JavaScript, CSS, HTML, fonts, etc. have been moved inside the executable.
SQL Server 2005 support is included. Barely.